---
Serving the Calgary, Airdrie and Chestermere regions.
---
Have you ever noticed the curved pipe that tapers out from your property? That long vertical pipe is called your downspout. It is connected to your eavestrough and plays a vital role in the safety and security of your home. Your downspout diverts water away from your roof and other areas of your home. Without a downspout, rain and melted snow can form puddles around your property and on your roof.
Pools of melted snow and rainfall can cause an assortment of problems. It can reduce the lifespan of your shingles by a half, the pools of water collect causing blockages and over time your asphalt shingles lose granules. It also adds stress to the eavestrough system. At Dedicated Roofing and Exteriors, our Calgary roofers always suggest connecting the upper-level gutters into the lower level eavestrough using downspout extensions in pretty much any situation.
Why Connect Upper Eaves to Lower Eavestrough?
The idea of eavestrough is to collect and contain the rain water and then re-direct it away from the home. Otherwise, the water would come off of the roof and wear a trench around the property and flood your home. Eavestroughs collect the water from the top of the home where the downspouts carry it below. If you have different layers and sections to your roof and the water flows directly on your roof, this can be problematic. Especially if the upper roof is big and there is a lot of water coming down the pipe.
Water Damage to Roof or Shingles
One of the most important reasons to connect the eavestrough with downspout extensions, is to prevent water damage. When all the water from the upper roof gets collected in the eavestrough and comes down the downspout, it has built up a little speed and force. That water washes away shingle grit and eventually damages shingles to the point that they will curl up. Once this happens the shingles become ineffective and your roof is now vulnerable to rot, leaks, mold and moss growth.
Excessive water pouring onto the roof will cut the life of your roof in half or maybe more. For example, a 30-year roof is going to be lucky to last 15 years under these conditions.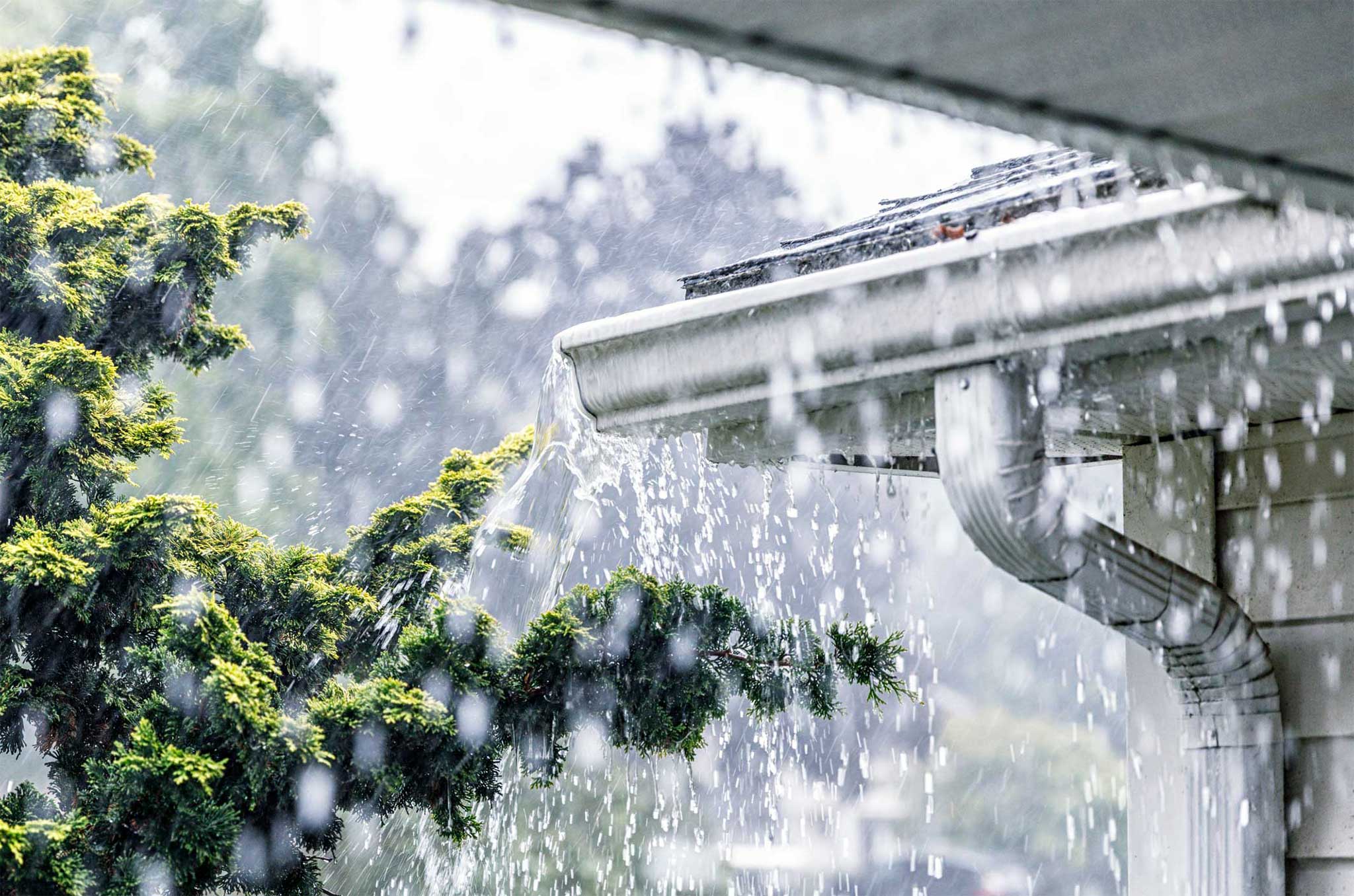 ---
How to Protect Your Property using a Downspout
The only solution, is to extend your downspout so that it connects into the lower-level eavestrough. This will prevent the water from going over the edge and washing away your foundation. When water goes over the edge, it not only washes away your foundation (which causes basement leaks), but it also runs down the walls.
Water running down your exterior walls can cause a whole slew of problems. Most importantly it can cause discoloration, mold, wood rot, leaks in the home, etc. Water that has come off of your roof is extremely dirty from the shingles and will stain anything it touches over time. The cost of extending the downspout is going to be much cheaper than any of those repairs.
Get An Estimate for Upper-Level Downspout
You can save yourself thousands of dollars and a whole lot of headaches by installing downspout extensions that connect to your gutters. Water damage is expensive to repair and if left un-maintained it can lead to very serious issues. Splash guards can be installed to prevent splashing over the eavestrough; however, that doesn't protect your shingles and roof from water damage.
Downspout extensions are the best choice as they are relatively inexpensive when compared to other solutions.  Save on costly damages, contact the professionals at Dedicated Roofing and ask about our downspout services!