---
Hail damage in Calgary, Airdrie and Chestermere.
In Alberta, we are blessed with warm summers, but as the temperature heats up this typically means storm season has arrived. In 2020 a huge storm hit Calgary and the surrounding areas causing $1.2 billion in damages with around 70,000 properties affected. The main culprit was hail damage.
Hail Damage is not only associated with cosmetic damage to the surface of your roof and its shingles, hailstones can cause serious internal damage to your property. Hail impact can crack or bruise your shingles, this can lead to costly water damage and leaks. We may not always be able to avoid Calgary's hail storms but you can lessen the extent of the damages by knowing the warning signs and pre-emptively protecting your roof.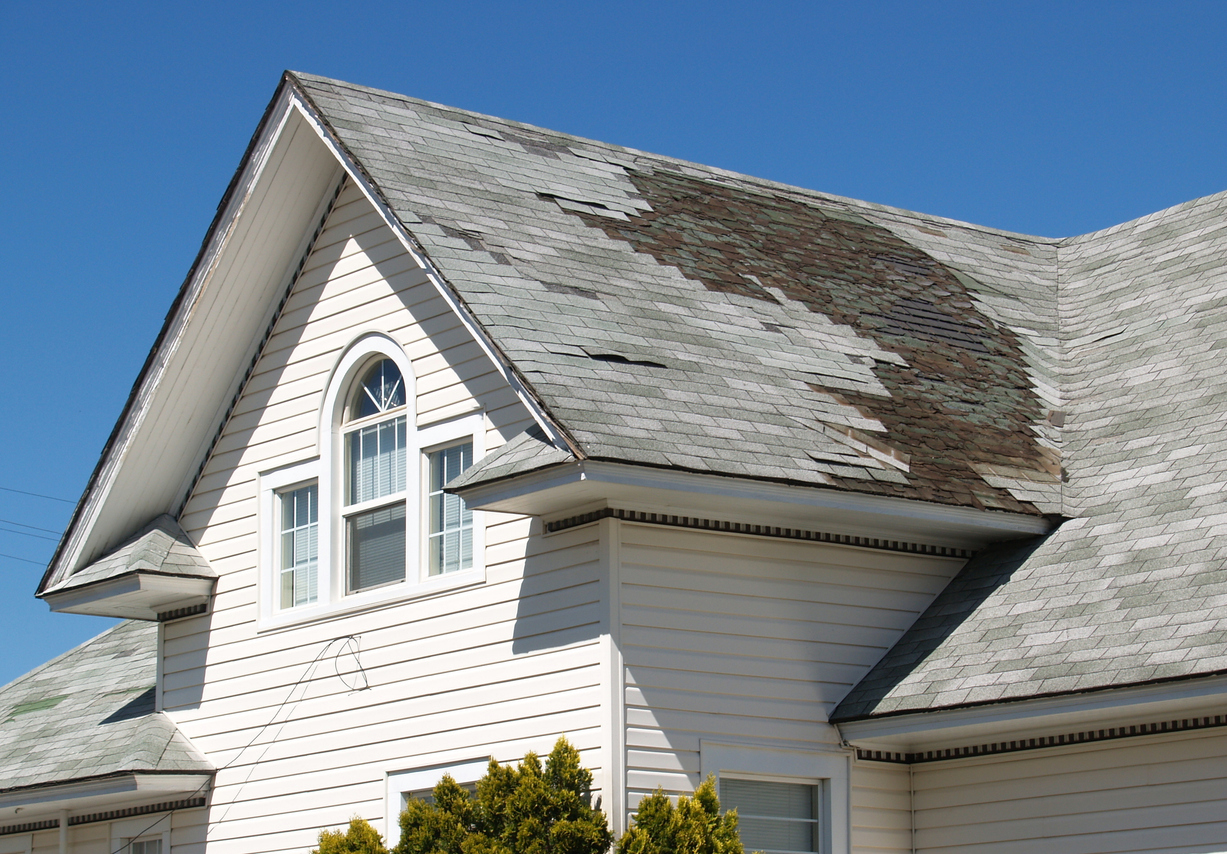 Missing or Cracked Shingles: Check for missing or cracked pieces in the asphalt of the roof, large hail can cause circular cracks and powerful winds can blow shingles off your roof.
Exposed Shingles: Look for areas on the shingle that are exposed, this includes missing granules on your shingles.
Dark discolouration: Look out for black substrate or round black bruised areas, this typically indicates the fibreglass mat has been damaged and is the most common sign of hail damage.
Not all hail damage is visible, sometimes hail damage can only be found on the backside of your shingles. Other times, the damage might be high up away from your line of sight. In these cases, it's best to book a certified roof inspection from a licensed Calgary roofing contractor. They can easily spot weather wear and tear and also assess other parts of your property for hail damage.
What Does Hail Damage Do to Your Roof?
Hail roof damage can differ depending on various factors. Hail size, wind speed, wind direction, your roof's materials, and the age of these materials play a part in the severity of damage to your roof. Hail storms can damage the granules on your shingles, this exposes the asphalt to the elements leading to accelerated aging. Large golf ball-sized hail recently seen in Calgary can cause cracks to your shingles.
High winds on the other hand can rip the shingle off the roof, this leaves your roof exposed making it more susceptible to water damage.  Water can also seep through small cracks caused by smaller fast-moving hail and further compromise the integrity of your property.
From the ground, roof hail damage can be hard to spot, these dents and cracks often go unnoticed, which can lead to premature roof replacements. Our expert Calgary roof inspectors are specially trained in detecting hail damage. They can spot minor cracks and bruises others might miss.
Regular roof inspections from a licensed roof inspector can save you money on roof repairs in the long run, protecting you and your property for years to come!
Your Calgary Hail Damage Roofing Experts
At Dedicated Roofing and Exteriors, we provide comprehensive roof inspections. Our Calgary roof inspectors carry out a complete assessment of your property from the ground up. We evaluate everything from your shingles, flashing, valley metal, capping ridge/hips, and vents. Our meticulous process guarantees we detect any hail damage or problems before they lead to more costly damages.
Our Calgary Roofing professionals can then provide qualified recommendations for a range of services, including, roof replacements, roof repair or eavestrough and siding solutions. Talk to one of our Dedicated Roofing & Exteriors representatives for more information about roof repair and hail damage repair in Calgary.
Recommended Products for Roof Hail Damage
At Dedicated Roofing and Exteriors, we offer a range of high-quality roofing products to protect your property from hailstorms. You can't control the weather, but you can control how to better protect your roof and prevent further damage.